This week we've made a lot of progress with our trim. I'm happy to say everything is filled and sanded (except one side of the column that needs a bit more filler). Now it's just doing the painting and it'll be done! The china cabinet is also finished, with the last coat of water-based poly I put on the stained parts last night. It just needs to be put together after we give it a good 24 hours of drying time.
That doesn't sound like too much progress for a whole weekend, but with a few huge purchases we made this week that I'll tell you about, I'm feeling like our house is SO much closer to being put together!
Last Saturday we dragged ourselves out to Raleigh again and went to 4 furniture stores (well, more like 3 stores I guess. One of them we walked in, looked at a few sofa price tags and immediately realized we were poor, so I won't count those 10 seconds as a full store!). We really wanted a sofa-chaise sectional since we felt like that would give us a little extra seating space in our awkwardly-shaped living room. The tiny wall we want to put the sofa on is exactly 84.5″, and we found that most couches or sofa-chaise sectionals we liked were around 90″. And many of the smaller ones that would have fit just looked like cheap dorm room furniture to me. But we finally found one that had a little style, had a sofa-chaise, fit our wall, and was in our budget at Ashley Furniture. Here's the stock photo of it: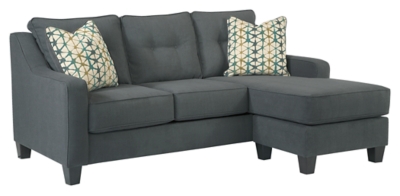 We liked the little buttons on the cushions, the fact that it was raised off the ground on some feet, and the curved arms, and the color was nice too – a darkish gray. With delivery and taxes and everything it came to around $900, which was under my goal of $1000.
Next, we went to this crazy home store in Durham called At Home – it's a combination of Michael's craft store, Ikea, and the biggest warehouse of home decor things you've ever seen. It's probably bigger than Home Depot, just to give some perspective. A lot of the stuff in there isn't the best quality, but we were able to find a nice wool rug for the dining room for $150, and some ideas for arm chairs for more seating in the living room. Here's the rug we picked out:
And finally, if you thought that was all the money we spent this week, I hate to disappoint you (well, you're probably not disappointed, but my bank account might be). We also bought a kitchen suite! We're not quite ready to redo our kitchen yet, but why wait to start enjoying new appliances? We figured out we can easily move them ourselves when it comes time to do the floor under the fridge and stove, and I don't think we're installing wood floor under the dishwasher, so it can stay where it is once it's installed. We got a Kenmore suite from Sears since a lot of the Kenmore stuff was on super sale right now, then we got a 5% discount for buying 3 things over $400, AND we had a 10% coupon for Sears from when we moved that was only good till the end of January. You won't believe how cheap we got these things…we saved over 50% off the original price for some of the items!
Here's our fridge:
We splurged an extra $50 for the one that had LED lights inside and clear door shelves. Originally $1410, and we paid $812.
Here's the oven:
And it's a convection oven (since the convection one was on super sale, and was the same price as the non-convection one)! My baking will be getting even better soon! We had a PSNC guy come out a few months ago and give us a quote for giving our stove a gas line, and it was about $900 extra…which is why we decided to stay with electric. So the original price on this was $999 and we paid $469.
And finally, our dishwasher:
We were deciding between this one and one that didn't have a handle that stuck out a couple inches and instead had the control panel visible on the front. The other one wasn't as sleek looking and was a slightly lower-quality model, so we decided to get this one. And it is all stainless steel inside so it looks fancy in there too! This one was $879 originally and we paid $494. But honestly, I probably would've paid the full $879 to get rid of the one we have that actually sounds like the Titanic sinking into the ocean when it runs. We should record it next time we run it, just for memories. We didn't pay for installation of the dishwasher…the nice sales guy seemed to have enough faith that we could figure it out ourselves, but he said if we have issues they can send a guy to finish the job.
So, you really can't blame us for biting the bullet and getting this purchase out of the way with the crazy low prices we got! It's all getting delivered next Friday AND they'll haul away our old appliances for an extra $10. Done and done.
I feel like it's all coming together now. There probably aren't too many more substantial purchases we'll have to make in the immediate future to get our house looking nice, so I'm glad to have this behind us!