Well we have about 3 weeks to go till our wedding, and I'm pretty sure we have more than 3 weekends of work to do on the kitchen before then…so we'll see how far we get, and our guests will just have to accept the slow reality of DIY renovation!
It's been a while since I've posted, and since then I'm happy to say our backsplash is installed and about 2/3 of the way done with being grouted. Here's some pictures of the backsplash pre-grout:
And the cutouts Nik made around the window frame:
And also the new cabinet in the corner:
We had a minor set back Saturday, when we turned on the tile saw and smoke erupted out of it. We figured out it was the capacitor which had fried…and of course Skil is not opened on the weekend to help us deal with it being covered under the 1 year warranty. So we went to Lowe's and just bought a new one for $90 so we wouldn't be slowed down. Once we get the part to fix the old one…is there anyone who wants a tile saw?
After giving all the tiles time to dry out, we applied grout yesterday. We wanted a light gray, and tested out a few ratios of dark gray grout with white grout. We settled on mixing 1 part gray grout with 2 parts white grout:
And then the fun (read: stress) began:
Even though I've grouted twice before, and should know by now that IT'S GOING TO LOOK LIKE CRAP WHEN YOU DO THE INITIAL APPLICATION BUT IT'S GOING TO BE OK IN THE END, I still freak out when applying it. Grout is stressful because you have to apply it heavily to make sure you get it in all the cracks adequately which takes a while, then 20 minutes after application you wipe it down with a slightly wet sponge, then wait anther 30 minutes to buff it. But it takes longer than 20 minutes to do a few feet of wall, and then you want to keep going with the grout in the bowl to not waste it before it hardens…but it's time to start sponging, and two people can't be in the same place at the same time…and you see where this is going.
But after several near-nervous-breakdowns and several hours of time we managed to finish about 2/3 of the kitchen, and sure enough it looks wonderful:
In retrospect, subway tile was a challenge – not because of the tiling part, which went very well, but because of how time consuming the grouting was. With larger tiles, it's less work, but with these small tiles there are so many edges and you really have to ensure every edge of every tile gets good grout coverage. But I love the look, and I love the subtle gray grout color we made.
Our cabinets have made substantial progress (although not yet done). The doors all have 2 coats on the front, so just a coat of sealer and the fronts will be done. Then the backs need another coat or 2, and a coat of sealer. And the cabinet frames (in the kitchen) need their sealer.
So what's the plan for the next 3.5 weeks? Our goals are to finish the grout and caulk around the tiles, hopefully finish painting/sealing cabinets, drilling and adding hardware and re-mounting the doors, cleaning up the quarter round floor trim with some paint-touchups, putting our pantry door back on, and hopefully making and mounting the shelves for next to our sink. We bought these cool rustic brackets off of Etsy  for the shelves: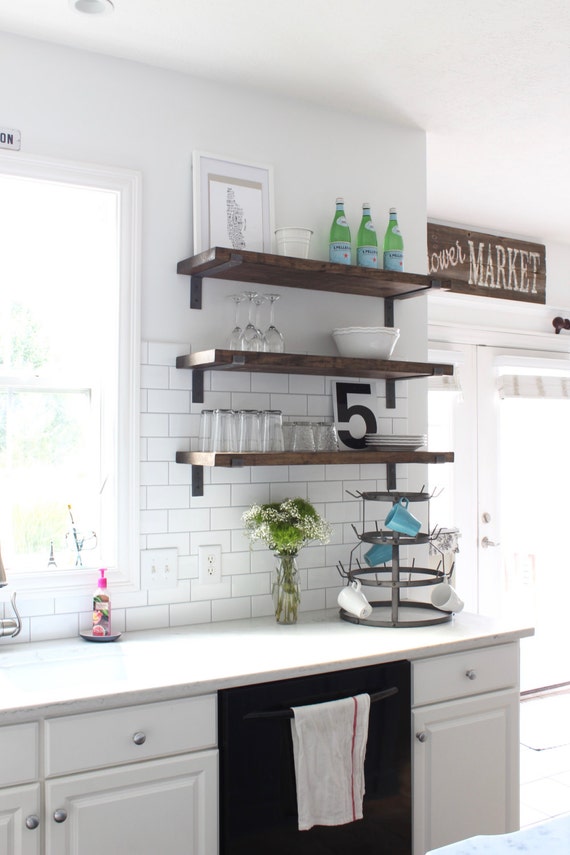 And we're actually planning to use 1″ thick oak stair treads for the shelf – which will be stained and sealed. But we'll see how far we get – there's lots of wedding-to-do-list items for the next few weeks too, and getting successfully married might have to take priority over the kitchen!