The last few weeks Nik and I (well, mostly me) have hemmed and hawed about what faucet set will be most compatible with our shower, and we've made some new discoveries, and had some set backs. We did determine that we have a Moen posi-temp valve that is already there, and we also determined we're not willing to cut through the wall to replace it! So we have several options at this point: we can use a universal kit we got that is made by Pfister and that should work, but it protrudes pretty far from the wall because of our valve placement and it isn't as nice looking as some of the other sets. This isn't completely installed, but this is what the 'protrusion' would look like with the universal set…not impossible, but not ideal:
Now that we know we have a Moen valve, we started looking more closely at Moen products, and found a line that we like (Brantford) that also sells individual components which we thought would be useful for replacing the tub hardware without having to buy another complete set (spout, shower head, and dial) as well.
Our tub spout turns out to be somewhat not standard (surprise!), so we did have to order a couple other tub spouts to try (Delta and Kohler make one that should work in theory…whether the metal finishes match the Moen ones perfectly is unlikely but Moen doesn't make a compatible spout that isn't chrome). So we ordered all the parts (shower head and temperature dial for the shower, temperature dial and tub spout for the tub) and then started pulling the tub apart yesterday (1 hour after ordering) and realized that the tub  temperature control dial HAS A DIFFERENT STUPID VALVE THAN THE SHOWER!
Soooo…we should be set on the shower when those kits come in this week, but the tub will still take some troubleshooting to find a valve dial that works with it. This part of the project has honestly taken longer to figure out than tiling our floor and shower. If only the contractors that built our house used standard, matching plumbing and fixtures, we could've been done with this 2 months ago!
In other news, while we were disassembling the old tub faucet parts, we also started removing some of the square white tiles around the tub – we're planning to do a quick cosmetic tile update around the tub to match the shower tile. Well, the little white tile squares didn't come off neatly so we ended up just cutting out all the drywall attached to the tile around the tub so we'll need to replace that drywall, then tile over it. We thought the demolition for this bathroom was done, but we were wrong.
All that aside, we do have some fun progress to show you! We got the remainder of our walls painted this weekend, and got the shower doors installed! Despite the doors being super heavy (about 75lbs each), we got them in with relatively little hassle and I think they look amazing. We selected Dreamline Encore 48″ frameless sliding door in brushed nickel, which set us back about $450. Here's the Home Depot stock photo: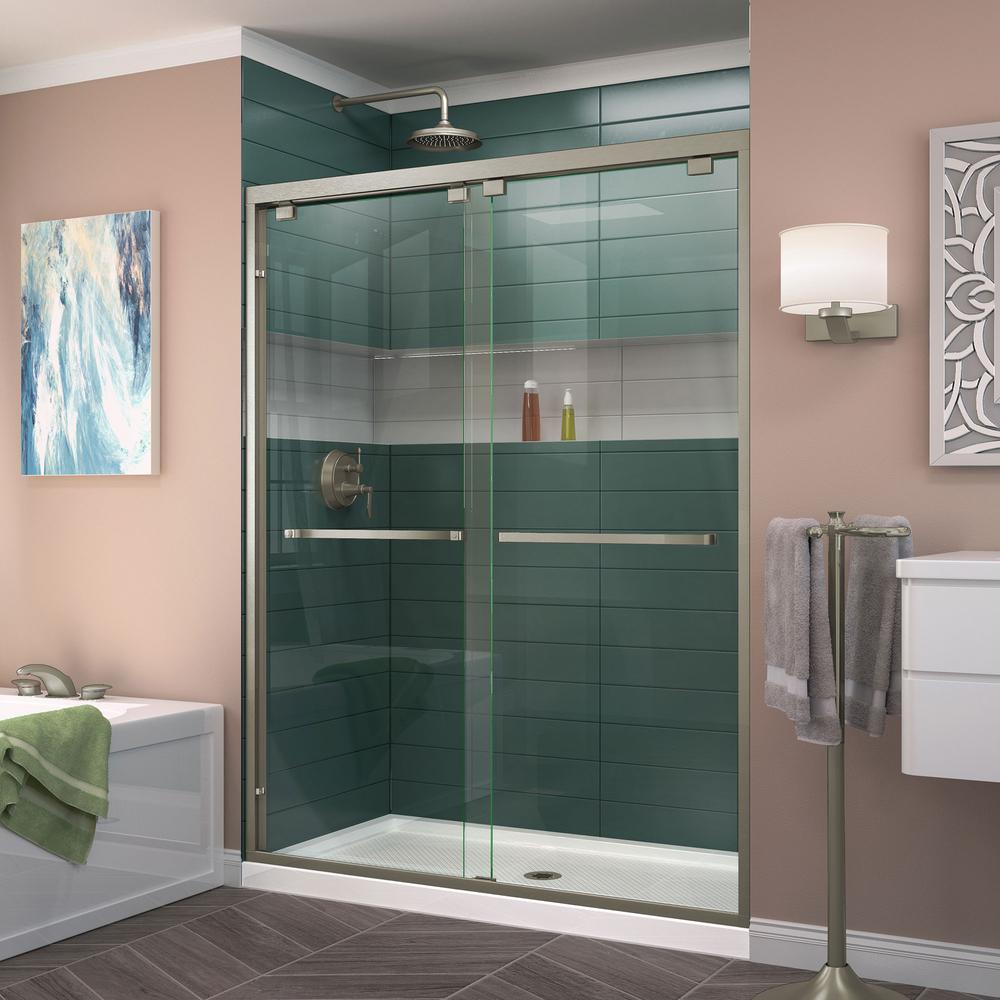 We thought about using a hinged door for a hot second…but the reviews were much worse for those types of doors, the installation seemed a lot trickier, and they were a couple hundred dollars more expensive. I read a few reviews for these sliding doors and everyone loved them and had an easy time installing them, so that made our decision easy. The hardest part about installing these was drilling 4 screws into the tile to secure the top bar. Nik did a great job with this, but it took him about 2 hours to get those 4 screws through a layer of porcelain tile, mortar, and cement board.
Here's the finished product:
In other news, we got a mini-Christmas tree this year to avoid any potential dog destruction:
Luckily, Gunnar has shown very little interest in the tree. We've started leaving him loose out of the crate for about a week now while we've been at work, which has gone splendidly for the most part. His one goofy transgression was consuming an ENTIRE banana, peel and all, that Nik mistakenly left on the coffee table. We only figured this out because Nik found a small portion of the stem left behind on Gunnar's bed, then we realized what had happened. Lesson learned. But really, who couldn't forgive that sweet face? Gunnar has managed to carve himself a perfect little niche in our family, and I have to say that snuggling with him is just the best thing ever!